Support Ocracats and Get a Free 2022­–2023 Ocats Calendar!
The Amazon Smile program provided Ocracats with funds to cover about one month's worth of food for the kitties, so we are looking for ways to replace that money. In addition, one of the nice things about Amazon Smile was that it provided a reliable source of income--every quarter, we would receive roughly the same amount of money from them, which helped us plan. In that light, we ask you to consider becoming a recurring donor.
How does it work?
Using either Facebook or PayPal, you set up a monthly recurring donation of as little as $1 to Ocracats, and the payment is automatically charged to your credit/debit card or deducted from your bank account. That's it! You don't need to worry about remembering to donate, and you can cancel at any time--there's no commitment.
What do I have to do?
Using Facebook:
1. On your computer, login to Facebook.
2. On the left, click Fundraisers.
3. Under "Search Fundraisers" at the top, type in "Ocracats."
4. Under "Nonprofits," you'll see our name: click Donate.

5. Click Donate Monthly and enter an amount on the next screen.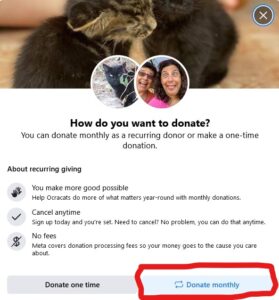 6. Enter your payment info (either a credit/debit card or connect to your PayPal account) and click Donate Monthly.
7. You're done!
Using PayPal:
1. Go to https://ocracats.org/support-ocracats-copy/ and click on the yellow Donate button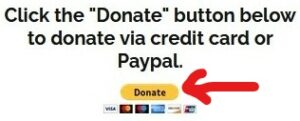 2. Enter the amount you'd like to donate, click the "Make this a monthly donation" box, and then select either "Donate with PayPal" or "Donate with a Debit or Credit Card" and enter your information.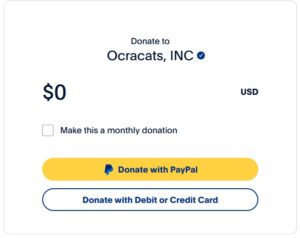 3. You're done!
And to say thanks for stepping up for us, anyone who sets up a recurring donation of at least $10/month before March 1 will receive a free 2022­­–2023 Ocracats calendar. No need to do anything except set up the donation, and we'll take care of the rest!
As always, we (and the kitties!) are grateful for your support. We couldn't do this without you!