Post date: Oct 15, 2014 2:59:48 PM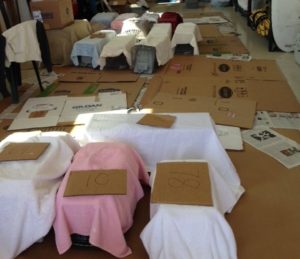 Ocracats had another very successful spay/neuter clinic September 16-18, 2014, with veterinarians Howard Johnson from Boone, N.C., and Scott Schroeder from Winston Salem, N.C., and their families. They neutered 18 male and 19 female feral cats and administered rabies vaccinations and flea and deworming treatments. This is the third time Ocracats has had the pleasure of working with these wonderful veterinarians and deeply appreciates their very generous rates and donations of supplies to our efforts. It seems to be a mutually satisfying relationship, and we hope to continue far into the future with them each fall.
We also appreciate the help of the other volunteers who traveled to the island to help us with this clinic. They built, washed, and broke down traps and carriers; trapped cats; assisted with record keeping; and did all sorts of other little jobs too numerous to name. Without their efforts, we could not have put on this clinic. Thanks, Friends!
This year, we held the clinic in the brand-new Ocracoke Fire Department facility located on Hwy 12. We sold our Ocracat T-shirts and notecards and put out the donation jar, and we raised more than $2,100--way beyond any of our wildest dreams!!! The money more than paid for this clinic. Since our grant from Petsmart Charities ended this past spring, the timing couldn't have been better. Thanks to everyone who contributed.