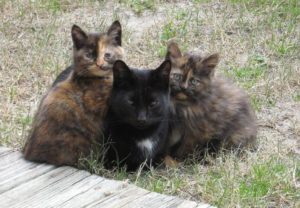 Ocracats, Inc. is a non-profit organization managed by community volunteers, formed in the early 1990s to control and care for the island's growing community cat population. In addition to an aggressive Trap-Neuter-Release (TNR) program, we feed the community colonies, offer medical intervention when possible for those injured or ill, and foster and find adoptive homes for kittens.
Our money comes from donations, fund raisers, grants, and the sale of t-shirts, note cards and calendars. The Ocracoke community is very supportive of our efforts. The Ocracoke Volunteer Fire Department hosts our spay/neuter clinics and many shops have our donation jars. Sales of t-shirts, notecards, and calendars fund many of our activities. In addition, local volunteers have fostered many kittens, and many have been adopted by island vacationers. It is a team effort and one of the reasons Ocracoke is such a special destination.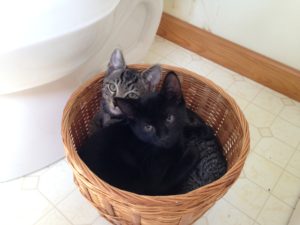 With the help of generous grants for TNR clinics awarded by PetSmart Charities and the Outer Banks Community Foundation we have been able to purchase 70 humane traps, carriers, and clinic supplies.
If you enjoy seeing the cats as you wander the sandy lanes and village streets, think about leaving a donation in one of our jars, writing a check and mailing it to Ocracats, or making a donation through the link on our "Support Ocracats" page or via Facebook. All are tax deductible. Or buy a bag of food and bring it to Tradewinds Tackle for our food stations.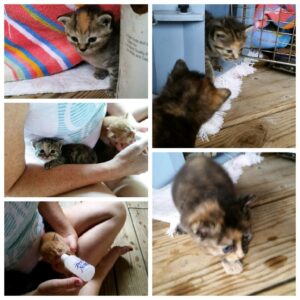 We always need help to continue the clinics, feed the colonies, and continue with our commitment to the community cat population on Ocracoke. Please donate.
THANK YOU!!!