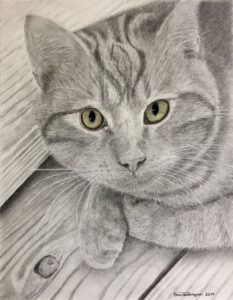 Remember Scooter? Hurricane Dorian and and then the Covid-19 pandemic meant that we were never able to raffle off this gorgeous original framed BRUCE TARKINGTON charcoal and colored pencil artwork valued at $700. We are FINALLY going to hold the drawing at the Ocrafolk Festival, June 4-6, 2001!
We still have all the tickets that were purchased in 2019 as well as the bonus tickets issued we gave out to our generous donors in the wake of the hurricane, and all of those tickets will be entered in the drawing.

If you didn't get a chance to purchase tickets before, you can do so at the festival  or online via PayPal using this order form. Tickets are $5.00 each or 5 for $20.00. All proceeds go directly to Ocracats for feeding, spay & neuter, and medical care for the cats and kittens of Ocracoke Island. Online ticket sales will end on June 2, since we'll need time to get all the tickets printed out and into the jar.
We will ship the artwork to the winner at no extra charge!
Thank you for supporting our mission! 
And a super-special shout-out to Bruce Tarkington for his generosity!