Saturday, October 19, 10:45 p.m.
Ocracats would like to thank everyone for your responses of kind words, hope, food shipments, shelter and feeding station projects, and monetary donations. We could not have made it through so successfully had it not been for all your generosity. As our way of saying thank you, we are giving a free raffle ticket for Bruce Tarkington's beautiful artwork to anyone who has made a donation to Ocracats (or makes a donation between now and the end of the year) to help us rebuild after Dorian. We will hold the drawing in the spring.
At the present time, we are still assessing and trying to locate Ocracats displaced from their familiar areas. We continue to provide medical care for those who are feeling the effects of the toxic water and terrifying, strange environmental conditions since the storm. Things are beginning to look a bit more manageable, at least compared to days after Dorian.
Nevertheless, the damage to our beloved island is stunning. From the air, things look almost normal, but 70% of the houses are now gutted either entirely or the bottom floor. Many are coming down. The streets are still pretty full of debris piles as people continue to clear out. Progress is being made and people are pulling together, but we're a long, long way from any sort of "normal." Businesses need support ,and most local retailers now have online stores up and running, so another way you can help is to check out your favorite Ocracoke retailer online or start planning your visit for next summer!
Here are some photos taken on October 11 by Dan Williams (lookoutimages.com). The bottom left photo shows the giant pile of debris in the beach access parking lot; in the bottom right photo, hurricane debris and damaged vehicles are visible along the highway.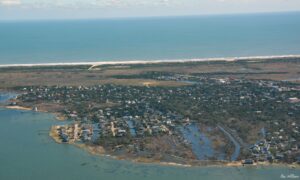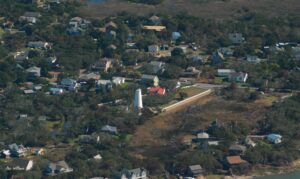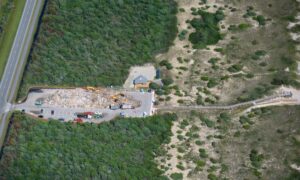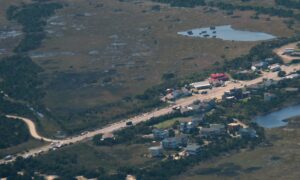 Monday, Sept. 16, 2019, 8:30 p.m.
Meet Dory!
On Saturday morning, kitty angels brought this five-week-old sweetheart out of the swamp and into Rita's hands. Her survival--and that of many of our other Ocrakitties--has brought us great joy, though we are still grieving the loss of so many others. And before you ask, yes, she has already found a home! But if you would like to add your name to our adoption registry for the spring, when we will probably have a bumper crop of kittens since our spay/neuter clinic won't take place this fall, please click HERE.
Shelters
So many of you have offered to build or buy shelters for us--thank you!!! In addition, two animal rescue organizations (see below) that have been helping us closed out their week on-island by building *10 * shelters today. If you haven't already contacted us about providing us a shelter, we ask that you hold off for now. When we have a chance to see how many we've got and how many we need, we'll let folks know if we need more. Again, thanks to everyone for their generosity!
Operation Bring Animals Home Search and Rescue & The Animal Disaster Relief Coalition
We have no words to express our gratitude to these two organizations, which have spent the past week working on behalf of the island's animals of all species, including humans. Our Facebook page has several videos showing the work Brandon, Marshall, and the other volunteers have done, and we can't imagine where we'd be without them.
We'd like to ask you to consider a donation to either (or both!) of these groups to help offset their expenses on our behalf and to enable them to assist other animals in need! Clink on the links to the left.
Amazon Wish List
We are still working on putting together an Amazon.com wish list, and we appreciate your patience and understanding. The on-island volunteers who are best positioned to identify our needs have just been too busy dealing with immediate matters to look at the big picture.
In the interim, we are of course happy to accept cash donations of any size via check or through PayPal (HERE), and we can certainly use gift cards to Amazon.com or Chewy.com to order supplies during the winter and spring.
And most of all, we soooo appreciate all the support you're sending our way--financial, material, and/or emotional. Thank you!
Friday, Sept. 13, 2019, 4:30 p.m
The past week has been quite overwhelming for those of us working with Ocracats. In the wake of last Friday's horrific flooding, we have been hit by a much nicer outpouring of love and support from all of you, and we have no words to express our gratitude. We have received thousands of dollars in donations and thousands of pounds of cat food, and we know that other supplies are on the way. This is an enormous help as we work to figure out our path forward. THANK YOU!
To make a donation to Ocracats, please click HERE.
We are going to take a break from social media over the weekend so that our on-island volunteers can focus on their own recovery and of course on caring for the cats. Our off-island volunteer will focus on getting together an Amazon wish list of things that we will be needing over the coming weeks and on compiling information about where/how to send/deliver things and answering some other questions that many of you have asked.
We will respond to nonemergency messages/emails as soon as we can next week. And again, we can't tell you how much your support means.
Tuesday, Sept. 10, 2019, 11:00 p.m.
We have been overwhelmed by the emails and other messages of support we have received as well as by the donations of food and money that people have been sending. Please know that they are not only appreciated but also very much needed. We apologize for not being able to respond individually to all of these messages, but we trust that you understand the circumstances.
The VERY good news: the vast majority of Ocracoke's feral kitties have survived the flooding, including at least 40 of the 57 that Rita Thiel feeds and at least 22 of the 38 who live behind the Post Office/Tradewinds.
But our infrastructure for caring for them has not. We are still assessing the damage and trying to figure out our long-term needs, but right now, we need: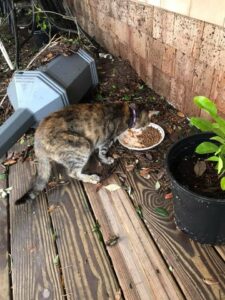 crates
carriers
feeding dishes
feeding stations/shelters (more information available HERE)
At this time, please DO NOT send dry cat food. We are short of dry space in which to store it and do not want it to get moldy and unusable. If you want to send food, our older kitties like canned Friskies Pate or Shreds. Donations of Chewy.com gift cards are also welcome, as are cash contributions via our PayPal account--click on the "Donate" button further down the page.
Please keep checking back here and on our Facebook page for updates on how the cats are doing and on what we need.
We are so grateful for all of you!