Friday, Sept. 13, 2019, 4:30 p.m
The past week has been quite overwhelming for those of us working with Ocracats. In the wake of last Friday's horrific flooding, we have been hit by a much nicer outpouring of love and support from all of you, and we have no words to express our gratitude. We have received thousands of dollars in donations and thousands of pounds of cat food, and we know that other supplies are on the way. This is an enormous help as we work to figure out our path forward. THANK YOU!
To make a donation to Ocracats, please click HERE.
We are going to take a break from social media over the weekend so that our on-island volunteers can focus on their own recovery and of course on caring for the cats. Our off-island volunteer will focus on getting together an Amazon wish list of things that we will be needing over the coming weeks and on compiling information about where/how to send/deliver things and answering some other questions that many of you have asked.
We will respond to nonemergency messages/emails as soon as we can next week. And again, we can't tell you how much your support means.
Tuesday, Sept. 10, 2019, 11:00 p.m.
We have been overwhelmed by the emails and other messages of support we have received as well as by the donations of food and money that people have been sending. Please know that they are not only appreciated but also very much needed. We apologize for not being able to respond individually to all of these messages, but we trust that you understand the circumstances.
The VERY good news: the vast majority of Ocracoke's feral kitties have survived the flooding, including at least 40 of the 57 that Rita Thiel feeds and at least 22 of the 38 who live behind the Post Office/Tradewinds.
But our infrastructure for caring for them has not. We are still assessing the damage and trying to figure out our long-term needs, but right now, we need: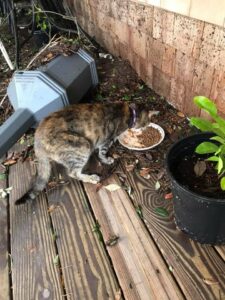 crates
carriers
feeding dishes
feeding stations/shelters (more information available HERE)
At this time, please DO NOT send dry cat food. We are short of dry space in which to store it and do not want it to get moldy and unusable. If you want to send food, our older kitties like canned Friskies Pate or Shreds. Donations of Chewy.com gift cards are also welcome, as are cash contributions via our PayPal account--click on the "Donate" button further down the page.
Please keep checking back here and on our Facebook page for updates on how the cats are doing and on what we need.
We are so grateful for all of you!